Cookbook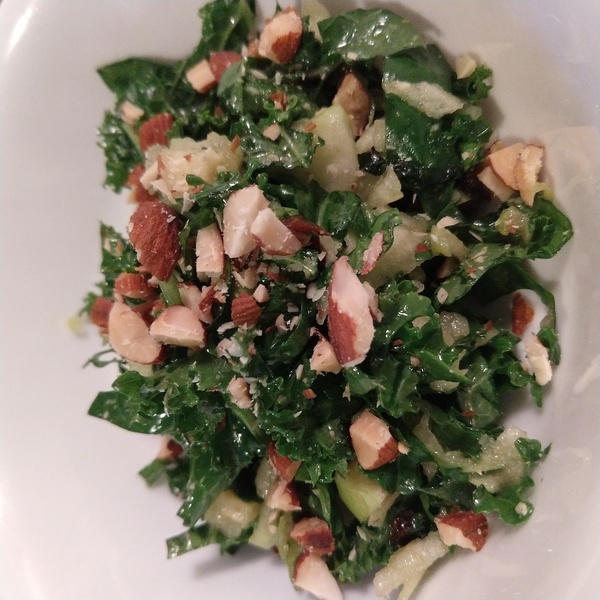 Kale Salad
Salt
1 t Ground Coriander
3 T Olive Oil
1 T Apple Cider Vinegar
1 T Lime Juice
1 Green Apple
Small Bunch Spinach
2 Big Kale Leaves
Dried fruit like cranberries or prunes
Chopped Walnuts or Almonds (optional)
Finely chop dried fruit and add oil, vinegar, lime juice, salt, and coriander. Wash kale and spinach and cut into 2mm strips. Wash apple and grate or cut into small pieces. Mix everything together. Optionally add walnuts or almonds.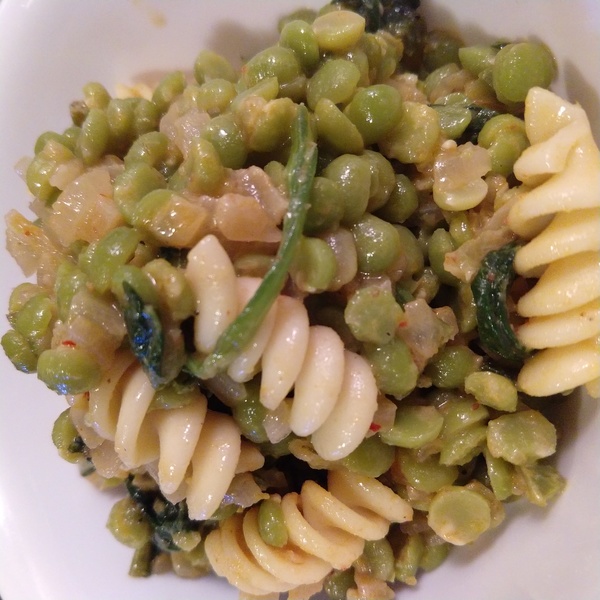 Curry and Green Pea Pasta
1/2 Cup Green Peas
1 Cup Cooked Rotini Pasta
1 T Red Curry Paste
2 T Oil
1 T Butter
1 Onion Finely Chopped
1 Jalapeno Finely Chopped
1 Cup Spinach
Milk
Add Oil, Butter, Curry Paste, Onion, and Jalapeno to a pan and cook till tender. Add spinach to the pot with a little water. Later, thin the sauce by adding milk. Cook green peas and pasta until tender. Mix green peas and pasta into sauce.
Cabbage Pie
1 Cup Cabbage
1 Cup Kale
1 Cup Brocoli
1 Egg
1 T Flour
1 T Olive Oil
Mozzarella Cheese
Loosely chop the cabbage, kale and brocoli. Mix in salt, egg, oil and flour. Cover the bottom of a hot pan with oil and add the mixture in an even layer. Cover with a lid. Let cook on medium heat for about 10 minutes. Flip and add a layer of cheese. Cover and cook for 5 minutes.
Pancakes
1/2 Cup Flour
1 T Sugar
1 1/4 t Baking Powder
1/4 t Salt
5/8 Cup Milk
2 T Butter
1 Egg
Combine ingredients and cook in a skillet.
Pancake Jelly
Apples
Grapes
Salt, Cinnamon, Vanilla
Add equal parts apples and grapes to the blender. Add just enough water to blend it into a slurry. Add pinch of salt and spices.
Dirty Golden Latte
1 Cup Strong Coffee
1 Cup Milk
1/4 t Ground Tumeric
1/4 t Ground Cinnamon
1/4 t Ground Ginger or 1 Small Knob Fresh Ginger
Refrigerator Pickles
Water, Salt, Vinegar, Sugar
Vegetables like onions or carrots
Equal parts cracked pepper, cumin, and fennel
Or equal parts cracked pepper, mustard seed and garlic
Mix water and vinegar in a 1 to 1 ratio. For every cup of liquid, add 11 grams salt. For every 1.5 cups of liquid add 1 teaspoon sugar. Add spices and heat mixture. Pour over vegetables in a canning jar.